Landscapes that can only be seen through cycling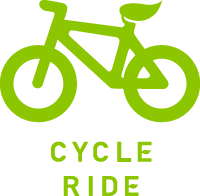 An appealing cycling course that will make you want to know and cycle more through the country hills.
Go on a cycling tour to experience the rich nature, hot springs, history and local food of Sendai.
Akiu

It is a relaxing course through which you can enjoy Akiu's rich natural scenery while cycling around cafes and temples.
Sakunami

It is a course to ride througt the forest road of Satoyama which change its look by season.
Jogi

It is a course that travels along Okura Dam lakeside while worshiping the Saihoji Temple, known as "Jogi Nyorai", and enjoying gourmet in its temple town.
Izumigatake

The course is also called as Sendai's "Holy Land of Hill Climb".
Izumi Park Town & Nenoshiroishi

It is a relaxing course featuring Izumi Park Town's beautiful cityscapes and Nenoshiroishi's peaceful countryside scenery.

Cycle Station
Cycle Station is a cycle-friendly facility that provides break space, drinking water cycle-related information, etc. for cyclists who enjoy bicycles in Sendai.
At Cycle Station, visitors can interact with other cyclists and local residents.

We provide various information on cycling and local tourist spots.

Cycling brings people closer!

Cycling brings people closer!

Cycling brings you closer to the locals!

Cycling brings you closer to the locals!
To enjoy cycling

Although you are not required to have a proper license to ride a bicycle, it is important to watch out for passengers and other cyclists to prevent accidents. Please remember to follow the instructions and have manners to enjoy cycling.