s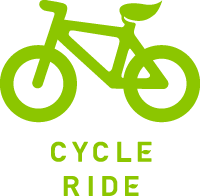 To enjoy cycling
Although you are not required to have a proper license to ride a bicycle, it is important to watch out for passengers and other cyclists to prevent accidents. Please remember to follow the instructions and have manners to enjoy cycling.
You must abide by the cycling rules.
1


As a principle, you must drive on the roadway not on the sidewalk.
2

You must drive on the left side of the roadway.

3

If you need to drive on the sidewalk, be sure to drive slowly and give priority to pedestrians.
You must follow the safety rules.
Please refrain from driving parallel to other cyclists.

Please refrain from ignoring traffic lights.
Please turn on the headlight when driving at night.
If you see a STOP sign, you must stop and make sure you are safe to keep driving.
Please follow road signs.
STOP Sign
Stop driving and make sure you are safe to start driving again.

Go Slow
Lower your speed so that you can stop anytime you need to.

One-way Street
You can only drive in the direction designated by the sign.

No Vehicle Entry
All vehicles including bicycles are prohibited from driving.

Pedestrian Only
Only pedestrians are allowed to enter.

Cycle Crossing Zone
You drive on this zone when you cross the roadway.